Brief Introduction
Ceramsite is processed from bauxite that is melted and atomized resulting in an almost perfect spherical grain with unmatched smoothness. Additional features are low density, low expansion, less resin requirements compared with most natural sands.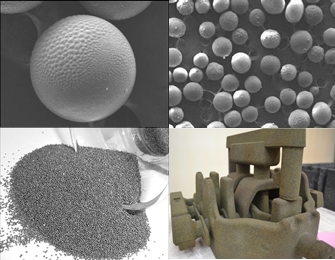 Ceramsite sand is used the calcined bauite as the raw material, then re-melte and atomized into spherical shape by high temperature spray. It has high smooth surface, good air permeability and excellent dispersibility. It can obviously reduce the binder addition for resin coated sand and self-hardening sand. Reduction of the sand consumption because as it can be reclaimed for many times and always in low breakage rate during crushing. Ceramsite sand is used as single sand, no need to mix with other sands. Most of foundries can even reclaim them up to 100 times. It is widely used as core sand and facing sand.


Features and Advantages
98% High Reclamation of Supersand, less new sand to be added.

1.05 Angle Coefficient of Supersand, require 25-30% less binder than silica sand.

Smoothness of Grain Surface, improve the internal quality and surface of castings.

Lower Expansion of Supersand, improve the accuracy of the casting.

High Refractoriness 1790℃, reduce physical burn in & slag inclusion occur.
Spherical Alumina Ceramic sands
Total 0 Page 0 Records