Brief Introduction
Refractory Products for Tundish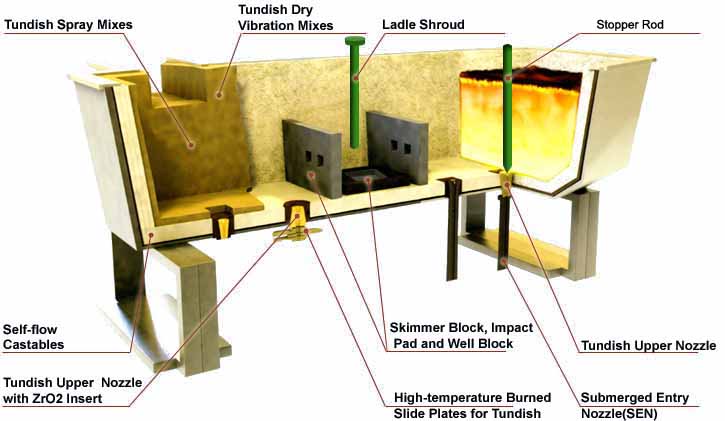 Stopper Rods

The AMR series of mono block stoppers include alumina-carbon type and magnesia-carbon type to suit for individual casting conditions.

More...
Ladle Shroud

The AMR serial ladle shrouds are ISO-pressed Al2O3-C based products, featuring superior thermal resistance to erosion-corrosion, oxidation and thermal cycling, etc.

More...
Submerged Entry Nozzle(SEN)

AMR has supplied SENs with fast-changeable system and SENs for thin slab casting for many customers worldwide, demonstrating reliable performance and long service life.

More...
Slide Plates for Tundish

AMR series of slide plates have the features of high strength, high erosion/ corrosion resistance, excellent thermal shock resistance and long life etc.

More...
Tundish Upper Nozzle

The AMR series of upper nozzles with ZrO2 Insert feature high refractoriness, superior resistance to thermal shock, erosion/corrosion etc. More...
Tundish Porous Upper Nozzle

The replacement of SEN may be done during casting when using AMR serial fast change porous upper nozzles, and longer tundish casting sequence is obtained.

More...
Metering Nozzle

AMR series of metering nozzles adopt mosaic pattern - the zirconia's inner core and alumina sleeve.

More...
Self-flow Castables

Self-flow castable is characterized by suitable setting time, good flowability, high strength, superior resistance to thermal shock, erosion/corrosion.

More...
Tundish Dry Vibration Mixes

AMR series dry vibration mixes are designed for tundish working lining. The products feature excellent adhesion, easy dry-out etc.

More...
Tundish Spray Mixes

AMR series spray mixes for tundish lining feature easy of coating, long life, high erosion/corrosion resistance, etc.

More...